Happy Friday! I just got home from a beach trip to Cayucos Beach with my girls yesterday. I went with my sister and her kids. Our husbands had to work so it was just us girls! My aunt, sister-in-law, and mom came along too!
Usually my husband will pack our vehicle before a trip...he has a strategy to fit all of our junk in the trunk! This time I had to do it on my own...and I had to reorganize it a few times to make it fit!
No, this is not my vehichle...lol. But do you ever feel your vehicle looks like this on a road trip?!
We are planning a road trip this September down the coast to San Diego. I was thinking...there has to be an easy way to organize all of our luggage for a longer trip. Especially when we will staying the night along the way and need to take out luggage each night. Organizing Homelife has great tips for storage while traveling. They used storage totes instead of luggage. Makes sense...they stack easily in your trunk, are sturdy and water proof!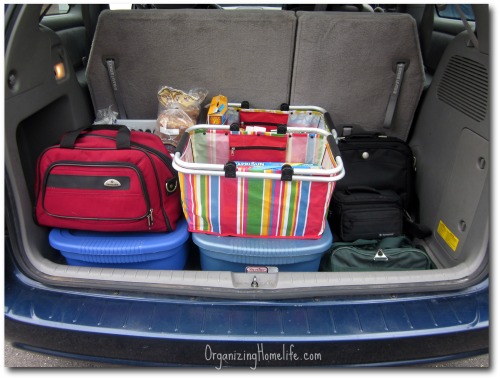 Now this is what I'm talking about! So organized!
You pack one tote for each location along your trip. My sister has used this strategy before with her luggage...works great for her large family! Be sure to check out Organizing Homelife's blog Organized Traveling with Totes for more tips and tricks!
I leave you with this photo of my girls and all their cousins at the beach!
Wish we were still there!
Happy traveling!